BAP Engineers Inc.
Mapleglen Residence, 2185 Major Mackenzie Drive West, Vaughan, ON L6A 1P5
The Dorothy Ley Hospice, 220 Sherway Drive, Etobicoke, ON M9C 0A7

Chatwell Hollandview, Trail Retirement Residence, 200 John West Way, Aurora ON L4G 7J3
Grand Ovation Condominium, 310 Burnhamthorpe Road West, Mississauga, ON L5B 4P9
Beaver Creek Metal Inc
Metro #229 Renovation, 1900 King Street East, Hamilton, ON L8K1W1
Bennett Contracting Millgrove ltd., 524 Sixth Conc W, Millgrove, ON L0R 1V0
Holmedale wtp upgrades project #2007-853
R. L. Clark Water Treatment Plant
Bess-Con Construction Ltd, 257 Deerhurst Drive, Brampton, ON L6T 5K3
Highland Creek Wastewater Treatment Plant, 51 Beechgrove Drive, West Hill, Scarborough, ON
B & J Contracting., 2895 Centre Line Rd, New Lowell, ON L0M 1N0
BUNKER CREEK Storm Improvement, City of Barrie
Bondfield Construction Company Limited, 407 Basaltic Rd, Concord, ON L4K 4W8
Dufferin reservoir existing reservoir, bondfield const.
Regional Operations Centre, Repair Facility, East Gwillimbury
Broccolini Construction (Toronto) Inc
Queen & Soho, 300-308 Queen Street West, Toronto, ON M5V 2A4
Buttcon Limited
St. Michael Cathedral Renewal, Phase VI, 200 Church Street, Toronto, Ontario M5B 1Z2
40 OAKS TORONTO CRC, TORONTO ON M5A 2C6
Carillion Canada
F&P MFG Stamping Addition
Clearway Group Of Companies, 379 Bowes Rd, Concord, ON L4K 1J1
West donlands, toronto, flood protection
Keswick Water Pollution Control Plant Effluent Outfall Expansion Project, 5741 Black River Rd, Sutton West, Town of Georgina, ON L3Y 4X1
Clifford Restoration Limited
Princess Margaret Hospital, 610 University Ave, Toronto, ON M5G 2M9
ConDrain Company Ltd, 30 Floral Pkwy, Concord, ON L4K 4R1
Holland Landing Wastewater Services, 19877 Bathurst Street, Holland Landing ON L9N 1N3
Woodland Hills Sanitary Pump Station, Lot 98, Concession 1 West of Yonge Street, East Gwillimbury,Town of Newmarket, Regional Municipality of York
The 2nd Concession Sewage Pumping Station, Town of East Gwillimbury
CRA Contractors Limited, (Conestoga-Rovers & Associates) 140 Bathurst Dr, Waterloo, ON N2V 1V7
Unilever Canada Inc, 175 UNION ST, SIMCOE, ON, N3Y 2B1, Hatches
Craft-Bilt Materials Ltd.
New Rear Aluminum Deck, Academy Natural Health Clinic, 4984 Dundas St. West, Toronto (Etobicoke), ON M9A 1B7

Stairwell Aluminum Closure, 900 Mount Pleasant Road, Toronto, ON M4P 3J9
Curb Signs Inc
197 YONGE Street Mixed-Use Development, Proposed Support for Temporary Banners
Defaveri Construction Inc., 0H7, 1259 Arvin Ave, Hamilton, ON
Maple Pumping Station Upgrades, 10588 Keele Street, Vaughan, Ontario
Dibco Underground Ltd., 135 Commercial Rd, Bolton, ON L7E 1R6
Beckett sproule feedermain contract #3b, dibco underground
Valley Ridge Feedermain Phase 1, Calgary, Alberta
Doran Contractors Limited, 3187 Albion Rd S, Ottawa, ON K1T 1W9
Britannia Water Purification Plant Rehabilitation, 2731 Cassel Street, Ottawa, ON K2B 1A8
Drainstar Contracting Ltd, 989 Creditstone Rd, Concord, ON L4K 4N7
75 Topcliff Ave, Toronto, ON M3N 1L6, City of Toronto
EllisDon Corporation
Art Gallery of Ontario Transformation Project, 317 Dundas street west, Toronto,
Waterpark Place Phase III, Temporary Vehicle Barrier
ONE YORK STREET,90 Harbour Street, Toronto, ON M5J0B5
Mapleglen Residence, 2185 Major Mackenzie Drive West, Vaughan, ON L6A 1P5
Joseph Brant Hospital, 1230 North Shore Blvd E, Burlington, ON L7S 1W7
Enbridge Gas Distribution Inc
Key Hole Platform
Ferguson Electric Company Ltd
Penthouse Guard Rails, 242 St. John's Side Rd., East Aurora, Ontario
Firenza Plumbing & Heating Ltd., 1 Torbarrie Rd, North York, ON M3L 1G5
Triumph Sanitary Pumping Station, Triumph North Condominium,149 Church St., Schomberg, ON L0G 1T0
Flat Iron Building Corp.
Bayview North Centre, Aurora
Gateman-Milloy Inc, 270 Shoemaker St, Kitchener, ON N2E 3E1
Rumble Pond Park Stormwater Management Facility Rehabilitation, Richmond Hill, ON L4C 8Z4
Gillam Group Inc
Data Centre, 565 Gordon Baker Road, North York, ON M2H 2W2
Graham Construction & Engineering Inc
Trafalgar Park Revitalization, 133 REBECCA ST, OAKVILLE
Grand Baccus Banquet Hall
Steel Hangers rated for 1000lb and 400lb loads
Great Canadian Gaming Corporation
Casino Woodbine, Renovation Project, 555 Rexdale BLVD., Etobicoke, ON L4V 1R8
Greenferd Construction Inc.
RBC Business Banking Centre, 20 King West, Toronto ON M5H 1C4
Greyleith Engineering and Construction (Canada) Ltd., 12624 Highway 7, Carleton Place, K7C 3P1
MINTO Bridge West, City of OTTAWA
Harhay Construction Management Ltd
Theatre Park, 224 King St W, Toronto
The Ninety, 90-100 Broadview Avenue, Toronto, ON, Stair D
Harry Rosen Inc
Toronto Eaton Center- Harry Rosen Mezzanine Steel
H 2 Ontario Inc., 71 Webster St, New Hamburg, ON N3A 1W8
New England Village Residential Development, Sanitary Sewage Pumping Station, Town of Wasaga Beach, County of Simcoe
H&R Construction mgmt.
The Beer Store Whitby, 301 Dundas Street E, G.C.
1580-1582 The Queensway Retail Development, Toronto,
H.I.R.A. Limited, 63 Gaylord Rd, St. Thomas, ON N5P 3R9
Normandale fish culture main station contract no. 16745
Standby power & process upgrades, oshawa water supply plant
Homer watson pumping station upgrades
JJ McGuire General Contractors Inc, 880 Farewell St, Oshawa, ON L1H 6N6
National Silicates, Lean to Structure
Gordon Willey Building Renovation, Durham College
Adams Manufacturing, Vegas Project pkg-1, New addition to the building
Beaverton Public School Renovation, Miscellaneous Design, Handrails, Guardrails
Durham College, Expansion Project,
J & K Welding Specialties, 2416 Wyecroft Rd, Oakville, ON L6L 6M6
West don lands
Scott street - sps,
Pumping station rehabilitation
2202 Industrial Street, Burlington, ON L7P 1B4 (PO# 00400)
Kenaidan Contracting Ltd
Lakeview Water Treatment Plant Expansion Phase 2, Mississauga, Regional Municipality Of Peel, ON
Kingdom Construction, 3172 Alps Rd, Ayr, ON N0B 1E0
Duffin Creek Water Pollution Control Plant, Disinfection Facility Upgrades, 901 McKay Rd Pickering, ON L1W 3A3
Lifetime Development:
49 Jackes Ave #200, Toronto, ON M4T 3E2
Maher Construction Inc
296 King St E, Toronto, ON M5A 1K4
Maple Reinders Constructors, 7656 Bramalea Rd, Brampton, ON L6T 5M5
Southeast collector trunk sewer construction
Generator Building & Sanitary Sewage Pumping Station,14314 Yonge St, Aurora, ON L4G 0P5
Master Steel Fabrication Ltd, 615 Garyray Dr, North York, ON M9L 1P9
Toronto Audi, 326 Bayview Ave., Toronto, ON
Downtown Mercedes-Benz, 761 Dundas St. E., Toronto, ON
M & G Steel Limited:
Apotex Etobicoke, 50 Steinway Blvd, Etobicoke, ON M9W 6Y3
IUOE Climbing Frame, OETIO Oakville Campus, 12580 County Road 2, Morrisburg, ON K0C 1X0
158 Sterling Renovation & Alteration, 158 Sterling Road, Toronto, ON M6R 2B2
M.J.Dixon Construction Ltd, 2600 Edenhurst Drive, Suite 200, Mississauga, ON L5A 3Z8
Thorncliffe library, Jean-Marie Community Centre, 48 Thorncliffe Park Drive, East York, Toronto, ON
Killbear Provincial Park Visitors Centre, Parysound,
NELNOR Construction
Yorkdale Shopping Centre THE BAY (TOPSHOP)
Hudson Bay Company, The Bay, 176 Yonge St Toronto, ON M5C 2L7
North America Construction ltd., 21 Queen St, Morriston, ON N0B 2C0
Burlington skyway wwtp phase ii expansion
Duffin creek water pollution control plant, stage 3 liquid process expansion
Clarkson Wastewater Treatment Plant, 2307 Lakeshore Road West, Mississauga, ON L5J 1J9
Oakville Water Purification Plant, 21 Kerr Street, Oakville, ON L6K 1B9
Ottawa valley structures inc.
Heron
PCL Constructors Canada Inc
BMO Limeridge Mall
CUPE Ontario Regional Office, 80 Commerce Valley Drive Burnhamthorpe Library REDEVELOPMENT, MUNICIPAL PARK P-043, 3650 DIXIE ROAD, MISSISSAUGA
Angus Glenn Community Centre, Markham, Inverter area
RBC Queen & Bathurst Tenant Improvement dwgs, 570 queen street west, Toronto ON
RBC Mississauga rd & Williams pkwy Sheel & tenant improvement dwgs, 9100 Mississauga rd, Brampton, ON L6X 0B3
Tenant Alterations, 455 GORDON BAKER RD, Toronto, Ontario
RBC CREDITVIEW @ SANDALWOOD SHELL & TENANT IMPROVEMENT, 10615 Creditview Road, Brampton, Ontario,
175 Stone Road West, Guelph, ON N1G 5L4 -Target T-3759
100 City Center Drive, Mississauga, ON L5B3R1, Mississauga Square One,Target T-3636
Heath + Tweedsmuir Phase 1, Morguard Resindential Inc, 320 Tweedsmuir Ave, Toronto, ON M5P 3L4
Heath + Tweedsmuir Phase 2, Morguard Resindential Inc, 320 Tweedsmuir Ave, Toronto, ON M5P 3L4
Target T-3773, 80 Great Lakes Dive, Trinity Common, Brampton, ON
Nathan Phillips Square Water Features, 100 Queen Street West, Toronto, ON M5H2N1
Target T-3668 Brampton Shoppers World, 10 Steeles Ave. West. Brampton, ON L6Y1N6
6 Pools, Mississauga, ON
Target T-3519 South Hamilton Square, 1576 Upper James St., South Hamilton, Hamilton, ON L9B 1K3
Bridgepoint Health "Don Jail Structural Steel", 14 Street, Matthews Road, Toronto, ON M4M 2B5.
Target T-3623 Brampton Bramalea, 25 PEEL CENTRE DRIVE, BRAMPTON, ON. L6T3R5
Royal York Plaza, 1500 Royal York Road, Toronto, ON M9P 3B6, Retail Concourse Entrance
Toronto Pearson Airport Terminal 1&3 , OTG Restaurants, CIBO Express Gourmet Market
Toronto Pearson Airport Terminal 1&3, OTG Restaurants, Heirloom Bakery Cafe
MaRS-Heritage Building Bridge, Discovery District for Medical and Related Sciences- Floor 3, 101 College St., Toronto, ON M5G 1L7
BMO-RE-STACK PROJECT
Target T-3670 Hopedale Plaza, 1455 Rebecca Street, Oakville, ON
Yonge Eglinton Centre Retail Renovation, 2300 Yonge Street, Toronto, ON M4P 2W6
Target T-3552 Mississauga Dundas, 1131 Dundas Street West, Mississauga, ON L5C 1C5
Toronto Pearson Airport Terminal 1&3 , OTG Restaurants, Commissary Kitchen & Storage
Toronto Pearson Airport Terminal 1&3, OTG Restaurants, Nobel Burger Bar
Yonge Eglinton Centre Retail Expansion, 2300 Yonge Street, Toronto, ON M4P 2W6
100 Adelaide Street West, Toronto M5H 1S3
120 Adelaide Street West, Toronto M5H 1T1BELL ExpressVu South Building, 115 Scarsdale Road, North York, ON, M3B 2R2
Target T-3646 Mississauga W, 5100 Erin Mills Parkway, Mississauga, ON L5M 4Z5
Cabela's, 100 Mapleview Drive West, Barrie, ON L4N 9H6
Chaz Yorkville, 45 Charles St. East, Toronto, ON M4Y 1S2
Toronto Eaton Center Redevelopment, 220 Yonge St, Toronto, ON M5B 2H1
Toronto Eaton Center Zara Renovation, 220 Yonge St, Toronto, ON M5B 2H1
BMO Field Renovation, Maple Leaf Sports and Entertainment, 170 Princes Blvd., Toronto, ON M6K3C3
Durham Region Courthouse, 150 Bond St E, Oshawa, ON L1G 0A2
Bay & Gerrard Apartments, 695 Bay Street, Toronto, ON, M5G 1Z4
‎KPMG Tower, Vaughan Metropolitan Centre, Interchange Way, Vaughan, ON L4K 5Z7
TD Centre, TD Bank Tower, 66 Wellington Street West, Toronto, On M5K 1A1
Raffi Jewellers, Mississauga, ON L5B3R1, Mississauga Square One Shopping Centre
Autodesk Office, 101 College Street, Toronto, ON M5G 1L7
Presentation Manor, 61 Fairfax Crescent, Scarborough, ON M1L1Z7
TD North Tower, 77 King Street West, Toronto, On, M5K1A2
GE Forefront FEV Test Cell Facility, 202 Buchner Rd, Welland, ON L3B 5N4
York Centre Office Tower, 16 York Street, Toronto, ON M5J 2Z2
Centre for Addiction & Mental Health Phase 1C Redevelopment, 1051 Queen St.W, Toronto,ON M6J 1H3
Park Hyatt Toronto, 4 Avenue Rd, Toronto, ON M5R 2E8
Mackenzie Vaughan Hospital, 9401 Jane St, Maple, ON L6A 4H7
Peak Engineering & Construction Ltd., 13580 County 2 Rd, Cramahe, ON K0K 1S0
John counter boulevard sewage pumping station
Colborne water pollution control plant upgrades, 1108 ontario street, cramahe township, county of northumberland, k0k 1s0
Bath Sewage Treatment Plant, 50 Sir John Johnson Drive, Bath, ON K0H 2G0, Loyalist Township
Plan Group:
Metrolinx, Galvanized Stairs PGSK, Short Cantilevered Steps to Trailer
PLANiT Construction Inc
CLUB MONACO, Mississauga Square One, 100 City Center Drive, Mississauga, ON L5B3R1
UNIQLO YORKDALE MALL, 3401 Dufferin St, Toronto, ON M6A 2T9
Ports Toronto:
SeaWall Ladders
Procon Constructors Inc., 401 Enterprise Dr, Welland, ON L3B 6H8
Crystal beach wwtp upgrades town of fort erie,procon Niagara
Reliance Construction
Target T-3729 Shoppers World Danforth, 3003 Danforth Ave. Toronto, ON M4C 1M9
Rio Welding Ltd
2 Termination towers Crossing HWY. 407 at Weston Road, CONDUCTOR ARMS DETAILS
Skytron Surgical Lighting Support Hanger, Scarborough General Hospital, 60 Scottfield Dr, Toronto, ON M1S 5T7,
SJD Contractors
Silver Springs G&CC

Asian Carp Aquarium Steel Guardrail, Toronto Zoo, 361A Old Finch Ave., Toronto, ON M1B 5K7
Skanska USA Building Inc.
Princeton University Lewis Library, Princeton, New Jersey. Arch: Gehry International Inc., LA, CA
Skygrid Construction Inc
Commercial Building, 420 Spadina Road, Toronto, ON M5P2W4
INDX, Bay+Adelaide Condos, 70 Temperance Street, Toronto, ON M5H 3V5
The Bond Condos, 290 Adelaide St W Toronto, ON M5V 1P6
Bisha Hotel & Residences, 56 Blue Jays Way Toronto, Ontario M5V 2G3
KINDCANN, 10-20 WOODSLEE AVE, PARIS ON N3L 3N6
Appleby Plaza, 3019 Appleby Line, Burlington, ON L7M 0V7
Yorkville Plaza, East Tower, 135 Yorkville Ave, Toronto, ON M5R 1C4
491 College St, Toronto, ON M6G 1A5
410 Bathurst St, Toronto, ON M5T 2S6
King Square International Centre, 9390 Woodbine Ave, Markham, ON L6C 0M5
Sorbara Development Group
32 CAMDEN ST., Toronto, ON
Sona Construction Ltd, 926 Burlington St E, Hamilton, ON L8L 6W8
Philiph jones wpcp - upgrades contract no. 01-11
Greenhill Trunk Sewer Biofilter, 100 Greenhill Avenue, Hamilton, ON L8K 6M4
Structform
The Glen Condominiums, 580 Kingston Rd Toronto, ON M4E 1R3
St John's Catholic Church
St John's Catholic Church, 207 Pine Street, Waubaushene (Tay), ON L0K2C0
TAGG Industries Inc
Toronto eaton centre phase 2
Mill Street Brew Pub Inc, Distillery Cherry Street PHASE 1, 390 Cherry Street (55 Mill Street), Toronto, ON
Yonge Eglinton Centre Retail Renovation, 2300 Yonge Street, Toronto, ON M4P 2W6
Waterpark Place Phase III, 85 Harbour Sq, Toronto M5J 2H2
Toronto Eaton Center Redevelopment, 220 Yonge St, Toronto, ON M5B 2H1
York Region Administrative Centre Annex, 17250 Yonge St, Newmarket, ON L3Y 4W5
Yorkville Village, 102-108 Yorkville Ave, Toronto, ON M5R 1B9
Tectonic Infrastructure Inc., 120 Rodinea Rd, Maple, ON L6A 1R5
1050 Headwall rail, Donino Ave., Toronto, ON, Hogg's Hollow Road and Stormwater Management Improvements
Tenebac Construction Ltd, 7290 10TH Line, Beeton, ON L0G 1A0
INNISFIL GRATING AND SUPPORTS
The Conservatory Group
Alteration to Waterways Sales Office, 2143 & 2147 Lake Shore Blvd W, Etobicoke ON
Milan Condominiums, Proposed Residential Development, 825 Church Street, Toronto, ON
The kaitlin Group
Clarington Arms Assisted Care Facility
T. Sena Construction & Management Inc
Gallery Loft Towns, 270 Beverly St. Toronto
Toddglen Group of Companies
Deer Park Church Renovation, 129 St Clair Ave W, Toronto, ON M4V 1N5
Torbear Contracting Inc., 144 Woodstream Blvd, Woodbridge, ON L4L 7Y3
City of Toronto, rehabilitation / upgrades, contract twdo-tw-twos-mcp-08-00005
City of Barrie, on, sinnidale park reservoir and booster pump station
Port Darlington Water Pollution Control Plant (WPCP), Regional Municipality of Durham
Wastewater Collection Pumping Stations, 1433 Warden Avenue, Scarborough, Upgrades and Rehabilitation/Group III,
Sunnyside sewage p.s. rehabilitation mcp13-08wp, City of Toronto
Tucker HiRise
ONE Bloor, Toronto
St. Nicholas Residences
Turner Construction Company, 375 Hudson st., New York, NY.
EMPAC (Experimental Media & Performance Arts Center) RPI (Rensselaer Polytechnic Institute) 110 8th

Street, Troy, New York, NY,

Urban Mechanical Contracting Ltd., 254 Attwell Dr, Etobicoke, ON M9W 5B2
TTC vaughan corporate centre
Varcon Construction Co Ltd., 250 Doney Crescent, Concord, ON
Lawrie rd. sanitary detention tank contract no. d2011-032
Veisman Moro Consulting Ltd
Riverside Square, 77-79 East Don Roadway, Toronto, ON M4M 2A5
2100 Bridletown Circle, 2100-2122 Bridletown Circle, Scarborough ON M1W 2S8
W.A. Stephenson Mechanical Contractors ltd., 6701 Rexwood Road,Mississauga,ON L4V 1M7
Hamilton Pumping Station po # 983-272,w.a.
Green Road sewage pumping station (sps), Stoney Creek, City of Hamilton
Rossland Pumping Station
Wilson Project Management, 221 Glendora Ave, Toronto, ON M2N 2W6
Solaris Residence, Amberley Sands, ON,
Sand Hills Residence, Waterloo, ON.
Woodbecker Inc, 21 Mansion Ave, Toronto, ON M1L 1A5
BALZACS, Toronto, Ontario
Yorkville Construction Corporation
MUSEUMHOUSE PENTHOUSE STAIR, 206 BLOOR STREET WEST, TORONTO
6531 Kingston Road
New Repair Garage, 6531 Kingston Rd, Scarborough, ON M1C 1L5
Four Seasons Toronto, 60 Yorkville Ave, Toronto, ON M4W 0A4
Cult Ironworks Ltd.
Menkes Developments
The Four Seasons Hotel and Residences Toronto is a complex consisting of a 204-metre, 55-story residential condominium tower and a 125-meter, 30-storey hotel tower, which opened on October 5, 2012. Located at 60 Yorkville Avenue, at its intersection with Bay Street, the complex is one block east of the previous Four Seasons Hotel Toronto at 21 Avenue Road. The complex was designed by Peter Clewes of architectsAlliance, and developed by Menkes Development Inc. The penthouse, which claims the entire 55th-floor of the West Residence, sold for C$28 million, and is the most expensive condominium sold in Canada. The 55-floor complex contains 259 hotel rooms and 210 private condo suites. It offers a two-storey spa, Café Boulud and bar by international restaurateur and Chef Daniel Boulud, and glass-enclosed event spaces. It was designed by architectsAlliance, with Page and Steele as Architect of Record. The project was developed by Bay-Yorkville Developments Ltd., a joint venture of Alcion Ventures, LP, Menkes Developments and Lifetime Homes, and uses the "Four Seasons" trademark under licence.
Harbour Plaza Residence, 88/100 Harbour St., Toronto, ON M5J 1B7
Cult Ironworks Ltd.
Menkes Developments
Harbour Plaza condos in downtown Toronto's vibrant South Core Financial District is a spectacular mixed-use community, a unique integration of live-work-shop- play – set to transform the face of this fast-changing location. Harbour Plaza's two soaring towers will be complemented by fantastic retail options at the podium of the towers, in addition to the One York commercial office tower.
An iconic landmark on the downtown skyline, Harbour Plaza is graced with soaring architecture by award-winning Peter Clewes of architectsAlliance, incomparable lifestyle amenities impeccably designed by Cecconi Simone to offer the ultimate in vibrant urban living, and a superb collection of modern urban suite designs, all directly connected to the extensive PATH network.
GIBSON SQUARE, Yonge Street & Park Home Avenue, 5162 Yonge St, Toronto, ON M2N 0E9
Cult Ironworks Ltd.
Menkes Developments
Gibson Square, at the heart of one of Toronto's most prominent and densely populated live/work communities, offers prime retail units at the base of two 42-storey residential condominium towers. The retail space is at the corner of Yonge Street and Park Home Avenue with heavy vehicular and foot traffic in addition to access to the TTC subway and on-site public parking.
Savvy Condominiums at Cosmo, Glendore & Tradewind Avenue, 34 Glendora Ave, North York, ON M2N 2V7
Cult Ironworks Ltd.
Menkes Developments
Savvy Condominiums at Cosmo is a 22-storey 285-unit condominium development project with units from 840 to 1030 square feet. Savvy is situated in a stunning setting where naturalized Ontario plantings weave among trellises and arbours, a charming gazebo and a private terrace with a tranquil water garden. The community includes townhomes and two lushly landscaped arkettes. Entry into the condominium is from a landscaped round-about off a quiet side street. From there, the chic lobby welcomes both residents and guests with a sitting lounge, elliptical columns of light, rich polished wood textures, a shimmering chandelier and attentive 24-hour concierge service.
Bridgepoint Hospital Redevelopment, 1 Bridgepoint Dr, Toronto, ON M4M 2B5
Cult Ironworks Ltd.
PCL Constructors Canada Inc.
The hospital is located next to the Don River in the Riverdale neighbourhood of the city and includes the historic Don Jail which is now the administration building for the new hospital. The exact address is 14 St. Matthews Road, Toronto, Ontario at the corner of Broadview Avenue and Gerrard Street. The new building towers over the east side of the Don Valley Parkway. The House of Refuge was built on the site in 1860 as a home for "vagrants, the dissolute, and for idiots". The facility became the Riverdale Isolation Hospital in 1875 during a smallpox epidemic. It became a specialized facility located on the edge of the city to house patients with communicable diseases, such as tuberculosis. As times changed, in 1957, the hospital's name and mandate were changed; its focus was shifted to helping those with chronic ailments and/or needing rehabilitation, as The Riverdale Hospital. The architecturally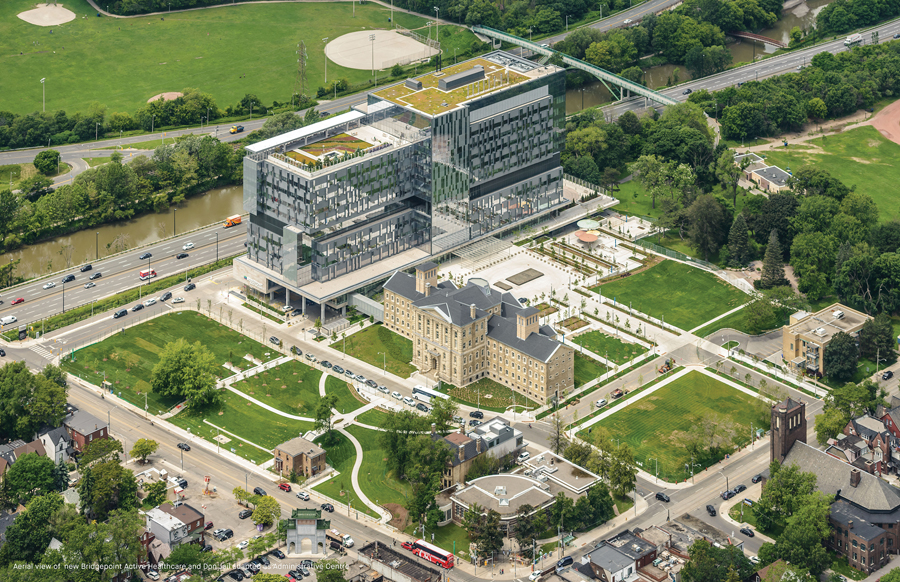 distinctive brown brick "half-round" Riverdale Hospital - which become Bridgepoint Health in 2002 - was completed in 1963; was amalgamated structurally into the new
Bridgepoint Active Healthcare campus. In 2003, a $200 million expansion project was announced, that modernized and expanded the facility. The final result is the purpose-built, 10-storey, 404-bed Bridgepoint Hospital building, which is connected by a glass walkway to the old Don Jail, used for administrative offices. The former Don Jail was demolished in 2014 as part of the Bridgepoint redevelopment project.
The Community Master Plan, approved by the City of Toronto in 2006, is based on a unique 'campus of wellness', which reflects exciting concepts from architecture, landscaping, and medical best practices to not just transform the site, but to change the healthcare system to better meet the life-long needs of people living with multiple health conditions - or "complex chronic disease". The new, state-of-the-art facility serves as a "living lab" to foster the next generation of clinicians, researchers and educators who will work together to advance our understanding and treatment of complex chronic disease. It serves as a research base for the Bridgepoint Collaboratory for Research and Innovation, which is one of the only research enterprises in the world to focus exclusively on complex chronic disease.
Bridgepoint Active Healthcare and Infrastructure Ontario have partnered with Plenary Health to design, build, finance and maintain the new facility for 30 years after completion. Construction started in the fall of 2009, and has been fully operational since April 2013.
Patient services moved to the new hospital building on April 14, 2013. The 10-storey hospital incorporates with the former Don Jail (c. 1858), which serves as the administrative wing of the hospital.[1] Two teams of architects are responsible for the two-tiered project design and delivery under Infrastructure Ontario's Alternate Financing and Procurement program: Stantec Architecture / KPMB Architects, Planning, Design and Compliance Architects; HDR Architecture / Diamond Schmitt Architects, Design, Build, Finance and Maintain Architects.
Richmond Adelaide Centre, 130 Adelaide St W, Toronto, ON M5H 3P5
Cult Ironworks Ltd.
PCL Constructors Canada Inc.
Richmond-Adelaide Centre is a cluster of office buildings in Toronto, Ontario, Canada, located in the financial district. It is bounded by Richmond Street West to the north, Sheppard Street to the east, Adelaide Street West to the south, and finally York Street as its western boundary. The complex is owned and operated by global real estate investor, developer and owner Oxford Properties Group.
There are multiple buildings located within this block, and its total area is 1.6 million square feet. The oldest is 100 Adelaide St West, built in 1928. Also built in 1928, though renovated in 1989, is 85 Richmond St West. In 1956, 111 Richmond Street West was completed. 120 Adelaide St West, located in the core of the block was built in 1966. The Oxford Tower is the most recent building, completed in 1978. The majority of the buildings located within this block are part of the PATH system.
The centre is a core asset for Oxford Properties, which undertook a CA$65 million renovation of 111 Richmond Street West in 2010, a building designed by architect Peter Dickinson. There have also been plans to redevelop 100 Adelaide St W. and build a new office building retaining part of the existing heritage structure.
The centre's urban retail concourse and food court has undergone an extensive modernization including a new 400-seat food court in a redesigned, contemporary space, as well as the expansion and relocation of its retail area. With over 40,000 square feet of retail space, the centre's concourse is frequented by area residents, tourists and over 5,200 employees in the office towers directly connected to the complex.
Malton Community Centre, 3540 Morning Star Dr, Mississauga, ON L4T 1Y2
Cult Ironworks Ltd.
PCL Constructors Canada Inc.
Malton Community Centre features a double gymnasium, expanded fitness area and completely redesigned change rooms with adjacent steam rooms. Community groups and residents will enjoy holding their meetings and special events in the multi rooms. A new outdoor splash pad, playground and basketball play pad will provide hours of enjoyment for youth. Malton Community Pool is a 25 metre, 4 lane, rectangular shaped pool located in the Malton Community Centre. Features include a deep-end slide, basketball nets, a diving board, accessible ramp, a warm water therapeutic pool with hydro bench, male, female and family change rooms. Day lockers are available in change facilities. A tippy bucket available for use during fun and loonie swims. Malton Fitness Centre amenities include: Cardio Equipment including Treadmills, Stationary Bikes, Stairmasters, and Ellipticals, Conditioning equipment including free weights, barbells & dumbbells. Our Group Exercise Studio offers numerous group exercise classes. Membership also includes steam room, public skating and swimming.